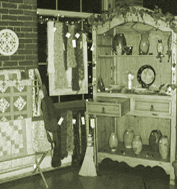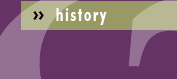 The Gallery at Ampers&: History
At the end of 2004, I got an idea to convert some of the unused space in my downtown studio into a showroom of sorts, to display and sell some of my own artistic creations, along with the handiwork of some of my local artisan friends & neighbors. I purchased a big old cupboard, filled it with a beautiful selection of hand made pottery, iron work, quilts, knitted items, painted ceramics, jewelry, etc. to be sold on commission, and placed it in the front corner of my studio space. "The Corner Cupboard at Ampers& Studio" was born.
Then, early in 2005, I was approached to join a fledgling group in town, the Lamprey Arts & Culture Alliance (LACA), who were just forming. Their stated mission: to support the arts, culture, and heritage of Newmarket and its surrounding communities which comprise the NH Seacoast. The all-volunteer group is looking to establish a cultural arts center in the historic mills of Newmarket, which are currently under various phases of redevelopment. "Grand plans" for the cultural arts center include public space for music, dance & theater performances; studio space for holding public classes and workshops in a variety of art disciplines; affordable studio space for local artists, and open studios for visitors to see artisans/artists at work; a gallery for LACA artists; and a heritage museum, showcasing the history of the mills.
While LACA has been growing by leaps and boundsóboth in membership and notoriety, they are still a long way from their goal. Meanwhile, "The Cupboard" has been offering its space to LACA and helping them organize and promote a series of seasonal art showcases, to raise money for, and awareness of, LACA and the arts. These showcases bring a variety of art, music and literature to our community, for all to enjoy. We also hold wine tasting/educational seminars and historical exhibits on a regular basis.
In 2006, we decided to simplify our identity, and changed the gallery name to Ampers&. In addition to the LACA shows, which have been widely supported and attended by the seacoast community, we've launched a series of artist-of-the-month exhibits featuring solo and/or group exhibitions, providing another venue for artists in and around the NH Seacoast region to showcase their work.
If you haven't visited us in a while, please pop in and see what's new in our gift area, and check out our latest exhibit (see calendar of events). Come join the fun!