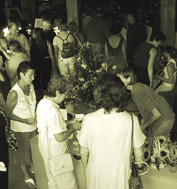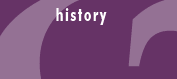 ampers& gallery: NOW SHOWING
a community celebration of the arts
LACA | fall community arts showcase
sep 24–oct 30, 2010
Join us for a community-wide, open house/artist's reception on Friday evening, 9/24, 6–8 PM
—in conjunction with the 2010 Newmarket Heritage Festival!

SPECIAL WEEKEND HOURS FOR THE HERITAGE FESTIVAL:
Open Sat & Sun (9/25 & 26), from 12–5 each day!
The Lamprey Arts & Culture Alliance (LACA) presents a special group exhibition featuring the works of thirty-four local artists and artisans.
These talented neighbors of ours will showcase their amazing works—including paintings, photography, sculpture, metal work, mixed media, fabric art, ceramics, furniture, handbags, jewelry, and more—in the non-profit gallery space at Ampers& Studio.
The Open House/Artists' Reception is Friday night, 9/24, from 6-8 PM, with artist meet & greets and complimentary wine & cheese. The exhibit will also be open during the Newmarket Heritage Festival (Sat & Sun, 9/25 & 26), from 12-5 each day. Additionally, the gallery has open hours on T-W-Thu (2-6 PM) for the duration of the show, which ends on October 30th.
Admission is FREE (donations accepted), with proceeds to benefit the Lamprey Arts & Culture Alliance.
PARTICIPATING ARTISTS:
Lindsay Bezich, Elise Bourne, Gerry Bresnahan, Christy Hotham Carroll, Kristen Carrol, Alison Chesley, Keith Cote, Martha Dana, Karen Davies, Margaret Bravar Demopoulos, Elizabeth Dudley, Paul W. Dupre, Kimberly Foss, Dale Partiss Greene, Patty Hobbs, Nancy Hubbe, Brian K. Jordan, Patricia Kaufman, Jan Knox, Meaghan La Frerriere, Edouard Langlois, Judy Marble, Johannah Robertson, Barbara Smith McLaughlin, Shawn Pelech, Mary Phillips, Russ Simon, Gloria Singer, Sarah Smith, Candace Stella, Mia Steusser, Judith Wall, Susie Wilson, and Carol Sandin Woodruff.
About Ampers&
The gallery at Ampers& Studio (125 Main Street, at Rivermoor Landing, lower level) is located in the historic "No. 6 Mill" of the Newmarket Manufacturing Company, which sits on the bank of the Lamprey River, in the heart of downtown Newmarket, NH. The volunteer, non-profit gallery is exclusively dedicated to exhibits featuring Lamprey Arts & Culture Alliance (LACA) artist-members and Newmarket-centric exhibits. Normal gallery hours are Tue-Wed-Thu, from 2-6 PM* or by appointment. Please call ahead to verify: 603-659-6823.
About LACA
The Lamprey Arts & Culture Alliance is a private, member-supported, volunteer non-profit organization, whose purpose is to support the arts, culture and heritage of Newmarket and its surrounding communities. For more information, visit their website at www.lampreyarts.org.
FIND LACA ON FACEBOOK
Did you know that LACA has a Facebook page, where they post updates on programs and invitations to their events? Be sure to "like" us, for an easy way to keep in touch with what's happening!
*Hours may change to facilitate client meetings and project deadlines. Call first to verify: 603-659-6823.