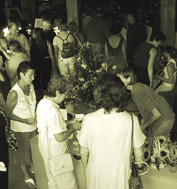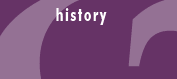 ampers& gallery OPEN HOUSE: sATURDAY, AUGUST 14
a lamprey Arts & culture Alliance special exhibit
LINDSAY BEZICH | faces of newmarket
aug 14–sep 2, 2010
Join us for a community-wide, open house/artist's reception on Saturday, 8/14, 12–4 PM
—in conjunction with Newmarket's Old Home Day festivities!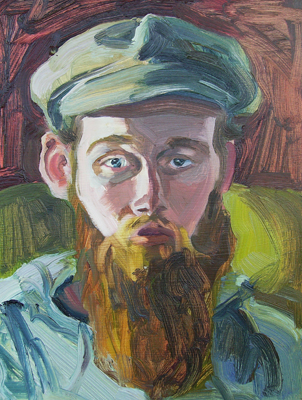 The Lamprey Arts & Culture Alliance (LACA) presents a special exhibition featuring the works of local artist Lindsay Bezich. Her solo exhibit, Faces of Newmarket, opens Saturday, August 14, with a community-wide open house and artist's reception from 12 to 4 PM, in the gallery at Ampers& Studio, in downtown Newmarket. The show will run through September 2.
Faces is a wonderful collection of portraitures—in both charcoal and oils—created by UNH fine arts grad and local artist Lindsay Bezich. Some of you may remember Lindsay from her days as a server at The Big Bean, located just across the street from Ampers&. She has also exhibited and sold pieces at Ampers& in previous community art shows.
RSVP ONLINE!
Did you know that LACA has a Facebook page, where they post updates on programs and invitations to their events? You can RSVP to our opening night celebration online, thru Facebook, by clicking here. You don't have to be a Facebook user to reply—but joining is a fun way to keep in touch with what's happening!
ABOUT THE ARTIST
Lindsay received her BFA in painting and drawing from UNH in 2008, grateful that her education landed her in the seacoast area. In school she had opportunities to paint in Italy and India, and she was awarded a yearlong fellowship with the UNH art gallery. Since graduating, she's been dipping her toes into all kinds of creative experiences, experimenting with collage in her studio, illustrating a children's book manuscript, working as assistant on a large scale installation piece, and sketching while travelling to keep her eyes fresh. Her next goal is to try teaching. This, Lindsay's first solo show, represents her primary love, rendering from life, and she is infinitely grateful to all her friends, old and new, who were willing to make it happen.
ARTIST'S STATEMENT
Inevitably, each time I paint someone, there occurs a quiet, intimate moment when it seems the initial oddness of the situation has worn off and we have settled into an exchange of mutual trust. Each of us entirely present, I feel a sense of intense joy and focus. It is an interesting challenge to capture the spirit of somebody by looking really closely at her nose. Sometimes I think I get it, sometimes it's not…quite…there, but then it's over and we are left with a record of a best effort made, a healthy exercise in forgiveness.
When I began this project as a mid-winter jumpstart, I was feeling the need to forge deeper connections with the people around me. I had only a vague notion of how it might evolve and culminate. What I had envisioned was a room of paintings that would encompass a multitude of generations and walks of life, but after nearly exhausting my network of twenty somethings, the project slowed to a crawl. It was then, unpredictably, but happily and appropriately, that it took on a new framework as "Faces of Newmarket," and gained a new life.
I think the unique nature of this town is that people really are aware of partaking in a community. As with the first leg of the project, I had a great response of folks willing to participate, but they were eager to suggest others to be recognized as well. If you spend any time downtown, you'll soon understand that this is more of a neighborhood than most, familiar faces filling the sidewalks and hidden faces making interesting things happen from behind the scenes…all shaping its rich character.
Rather than clusters of islands, we are links in interlocking circles. It takes surprisingly little effort to see the connections and to discover, or rediscover, this structure… and one another. This show aims to highlight the beauty of that simple powerful thing: recognition. Yes, we can say…I see you too.
I'd like to thank all the participants for their willingness and energy, LACA for giving me this opportunity, The Big Bean and Crackskulls for graciously allowing me to make messes, and ironically, Facebook, the soil for the first seed.
About Ampers&
The gallery at Ampers& Studio (125 Main Street, at Rivermoor Landing, lower level) is located in the historic "No. 6 Mill" of the Newmarket Manufacturing Company, which sits on the bank of the Lamprey River, in the heart of downtown Newmarket, NH. The volunteer, non-profit gallery is exclusively dedicated to exhibits featuring Lamprey Arts & Culture Alliance (LACA) artist-members and Newmarket-centric exhibits. Normal gallery hours are Tue-Wed-Thu, from 2-6 PM* or by appointment. Please call ahead to verify: 603-659-6823.
About LACA
The Lamprey Arts & Culture Alliance is a private, member-supported, volunteer non-profit organization, whose purpose is to support the arts, culture and heritage of Newmarket and its surrounding communities. For more information, visit their website at www.lampreyarts.org.
*Hours may change to facilitate client meetings and project deadlines. Call first to verify: 603-659-6823.