ampers& gallery : OPENS MARCH 27TH!
a lamprey Arts & culture Alliance artist-of-the-month exhibit
KATHI SMITH & JASON BOMBACI | bella vita
mar 27–apr 16, 2009
Join us for opening night: Friday, March 27, 6–8 PM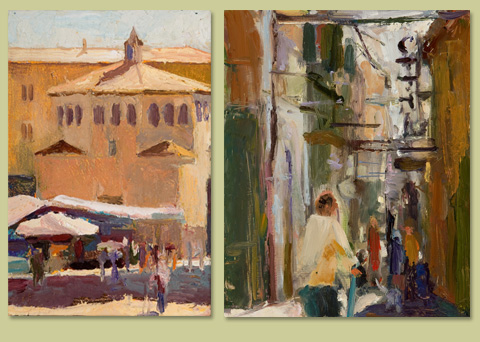 The Lamprey Arts & Culture Alliance's (LACA) popular artist-of-the-month series continues this month featuring the combined works of UNH Fine Art graduates Jason Bombaci and Kathi Smith. Entitled Bella Vita, the show opens on Friday, March 27, with an artist's reception from 6 to 8 PM, in the gallery at Ampers&® in downtown Newmarket.
While participating in a combination studio art/art history course through the university, Bombaci & Smith travelled to Italy during the spring of 2008. There, they visited the Roman ruins and studied the masters' works in Florence, Venice and Rome; then moved on to the ancient city of Ascoli Piceno to paint its graffiti-covered walls and sun-drenched hillsides.
Bella Vita, a collection of their works painted in Ascoli Piceno, runs through April 16 and, in addition to the opening night event, is open to the public Tuesday through Thursday afternoons, from 2-6 PM each day. The gallery will also be open to the public during Newmarket's third annual Great Bay Half Marathon, on Sat & Sun, April 4 & 5, from 1-4 PM each day. We'll be offering free Mimosas and Pastries—while they last—to all visitors.
ABOUT THE ARTISTS
A native of Concord, NH, Jason Bombaci spent his youth exploring New Hampshire's mountains, rivers and rocky streams. His interest in the study of art was sparked at a very young age. Bombaci began a private study of art at age nine in Marblehead, MA and by high school was studying under Estelle Smith in Manchester, NH. In May 2008 he graduated cum laude from the University of New Hampshire's Bachelor of Fine Arts program. Bombaci says he likes to "build an image abstractly, focusing on mixing and laying down marks of pure color" and enjoys working en plein air. As the colors come together and meet, an image starts to emerge. This way of working builds what he calls "an active surface" which he works over repeatedly before arriving at the final image.
Kathi Smith is originally from Wilton, a small town in western Maine. Kathi completed her Bachelor of Fine Arts, in Painting and Drawing, at the University of Southern Maine in 2003. Upon graduation she moved to Oregon for 2 1/2 years, "where I worked in galleries as an attendant and picture framer, and hiked incessantly in the Cascade mountains." In 2006 Smith began graduate studies at the University of New Hampshire, and culminated the program in May 2008 with a Master of Fine Arts in Painting. Upon graduation, she moved to Plymouth, NH, where she currently teaches drawing and 2-D design as an adjunct faculty member of Plymouth State University.
About Ampers&
The gallery at Ampers& Studio (125 Main Street, at Rivermoor Landing, lower level) is located in the historic "No. 6 Mill" of the Newmarket Manufacturing Company, which sits on the bank of the Lamprey River, in the heart of downtown Newmarket, NH. The volunteer, non-profit gallery is exclusively dedicated to exhibits featuring Lamprey Arts & Culture Alliance (LACA) artist-members and Newmarket-centric exhibits. Normal gallery hours are Tue-Wed-Thu, from 2-6 PM* or by appointment. Please call ahead to verify: 603-659-6823.
About LACA
The Lamprey Arts & Culture Alliance is a private, member-supported, volunteer non-profit organization, whose purpose is to support the arts, culture and heritage of Newmarket and its surrounding communities. For more information, visit their website at www.lampreyarts.org.
*Hours may change to facilitate client meetings and project deadlines. Call first to verify: 603-659-6823.