ampers& gallery PAST EVENTS: jASON bOMBACI
a lamprey Arts & culture Alliance artist-of-the-month exhibit
JASON BOMBACI | ebb & flow
nov 2–28, 2007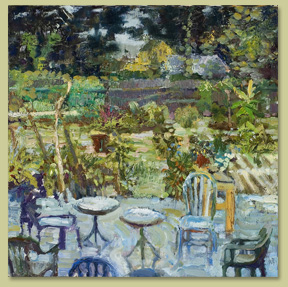 Throughout the month of November, the gallery at Ampers&® Studio will feature the works of local artist Jason Bombaci. Bombaci, a member of the Lamprey Arts & Culture Alliance (LACA), is a featured LACA artist-of-the-month. The exhibit is sponsored by Appledore Real Estate of Newmarket, NH.
Says Valerie Shelton, principal at Appledore—a leading seacoast real estate company specializing in waterfront properties, "We are excited to support the efforts of Mr. Bombaci, who so beautifully captures the diversity and richness of the coastal lifestyle that Appledore represents."
Bombaci's show, entitled "Ebb & Flow," opens on Friday, November 2, 2007, with an artist's reception from 6–8 PM at Ampers& Studio | Gallery in downtown Newmarket, and will remain on display through November 29.

ABOUT THE ARTIST
A native of Concord, NH, Jason Bombaci spent his youth exploring New Hampshire's mountains, rivers and rocky streams. His interest in the study of art was sparked at a very young age. Bombaci began a private study of art at age nine in Marblehead, MA and by high school was studying under Estelle Smith in Manchester, NH. This past May he graduated cum laude from the University of New Hampshire's Bachelor of Fine Arts program and plans to continue on for his Masters of Fine Art degree this coming year. An avid kayaker and fisherman, Bombaci spends a lot of time on the water and these activities seem to recur as a theme in some of his work. When asked if people ever misinterpret his work, he replied, "I paint what I paint and let viewers make what they will of it."
Visitors may well recognize many local scenes from this collection of thickly-layered canvases which use a broad palette of colors to capture the play of light so handily. "For these past summer months I have been concentrating mostly on the landscape and still life as a context to further explore my painting experience. I work mostly en plein air around Great Bay and the Seacoast." Bombaci says he likes to "build an image abstractly, focusing on mixing and laying down marks of pure color." As the colors come together and meet, an image starts to emerge. This way of working builds what he calls "an active surface" which he works over repeatedly before arriving at the final image.
About Ampers&
Ampers& Studio | Gallery (125 Main Street, at Rivermoor Landing, lower level) is located in the historic "No. 6 Mill" of the Newmarket Manufacturing Company, which sits on the bank of the Lamprey River, in the heart of downtown Newmarket, NH. Normal gallery hours are Tue-Wed-Thu, from 2-6 PM* or by appointment. Please call ahead to verify: 603-659-6823.
About LACA
The Lamprey Arts & Culture Alliance is a private, member-supported, volunteer non-profit organization, whose purpose is to support the arts, culture and heritage of Newmarket and its surrounding communities. For more information, visit their website at www.lampreyarts.org.
ABOUT APPLEDORE REAL ESTATE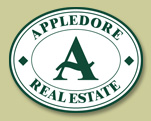 Appledore Real Estate specializes in water-privileged properties in the New Hampshire Seacoast area. They are known throughout the area as "the brokers who know the bays best" and focus their efforts and knowledge on the waterfront real estate market encompassing the Atlantic Ocean Gulf of Maine's Great Bay National Estuary: Great Bay, Little Bay, Lamprey River, Squamscott River, Bellamy River, Cocheco River, Oyster River, Piscataqua River, Winnicut River and Salmon Falls River. Since their inception, Appledore has worked diligently with The Nature Conservancy to insure that this magnificent nature- and conservation-oriented lifestyle will be protected for everyone fortunate enough to experience it.
In celebration of their 15th Anniversary, Appledore will host the opening night reception of Bombaci's NH Seacoast-centric exhibit as a special way to say "Thank You" to all their clients, colleagues and friends for their many contributions in helping Appledore become the market leader for Great Bay area real estate.

*Hours may change to facilitate client meetings and project deadlines. Call first to verify: 603-659-6823.