ampers& gallery: PAST EVENTS
a LACA artist-of-the-month exhibit
MARY BYROM | peace & harmony
jan 11–31, 2008
Join us for opening night: Friday, January 11, 6–8 PM
The gallery at Ampers&® kicks off the new year with an artist-of-the-month exhibit featuring the works of Mary Byrom. Her solo exhibit, Peace & Harmony, opens Friday, January 11, with an artist's reception from 6 to 8 PM.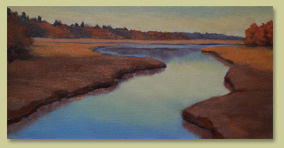 Anyone who's ever met Mary can tell you: her art is inspirational, yes; but even more so, she herself is an inspiration. Full of life and energy, she is devoted to helping the world become a better place through her art, and is actively involved with several local, national and worldwide organizations to further the cause of universal human rights. Mary explains that time spent alone, interpreting the beauty and moments of nature, is what makes it possible for her to see clearly and act directly to effect change. "I want to help people, definitely.... There are better ways for us all to live. I want to put something into my art, to share a moment of time or of beauty or of understanding, put it out there as message for anyone that can possibly gain from it. It's like a language—a different language—of the spirit. And when other people out there notice it and understand it completely, then I know that my life has come full circle."
Peace & Harmony, a collection of Byrom's newest plein air landscapes, runs through January 31, and is open to the public Tuesday through Thursday afternoons, from 2-6 PM each day.
About The Artist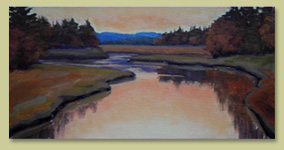 Mary Byrom is an artist with varied interests and proficiency in several media. An accomplished designer, illustrator, and painter she has an academic background in fine art. She works mostly from life, using the Alla Prima method of oil painting with a focus on plein air landscape painting. Raised in a large, talented family, she grew up in a small academic community in western Massachusetts where she was exposed to music and fine art. She received private instruction in both from an early age.
Two of her favorite painting locations, the Maine seacoast and the White Mountains of New Hampshire, are within easy reach of her home, and true to the practice of plein air, she is out of doors all year long, painting on location. It is from this collection of pochades that she paints larger studio landscapes. She is inspired by the work of historical and contemporary plein air painters. Mary has recently returned from an autumn painting trip in Wyoming and Idaho with Scott L. Christensen and is discovering that the American western plein air painters offer a rich heritage and rugged sensibility that are enriching her east coast paintings.
Byrom has received awards for paintings, sculpture and packaging design, commissions for children's illustrations, and has participated in solo and groups shows through out New England and Europe. This past summer, Mary was the recipient of both a Jurors' Choice and Viewers' Choice award at the Lamprey Arts & Culture Alliance's annual juried show and competition. She maintains a studio and shares a home with her husband Marcus Gale, a professional songwriter and musician, in North Berwick, Maine.
About Ampers&
Ampers& Studio | Gallery (125 Main Street, at Rivermoor Landing, lower level) is located in the historic "No. 6 Mill" of the Newmarket Manufacturing Company, which sits on the bank of the Lamprey River, in the heart of downtown Newmarket, NH. The gallery is exclusively dedicated to exhibits featuring Lamprey Arts & Culture Alliance (LACA) artist-members. Normal gallery hours are Tue-Wed-Thu, from 2-6 PM* or by appointment. Please call ahead to verify: 603-659-6823.
About LACA
The Lamprey Arts & Culture Alliance is a private, member-supported, volunteer non-profit organization, whose purpose is to support the arts, culture and heritage of Newmarket and its surrounding communities. For more information, visit their website at www.lampreyarts.org.
*Hours may change to facilitate client meetings and project deadlines. Call first to verify: 603-659-6823.