ampers& gallery past events: ONE DAY SPECIAL EVENT
PART OF WE DIG NEWMARKET'S DOWNTOWN WALKING TOUR
& ICE CREAM SOCIAL—DURING OLD HOME WEEKEND
HISTORIC MILL PHOTOS | a glimpse into Newmarket's historic past
august 9, 2008
Join us for a special viewing on Saturday, August 9, from 6–8 PM,
brought to you by the Lamprey Arts & Culture Alliance (LACA)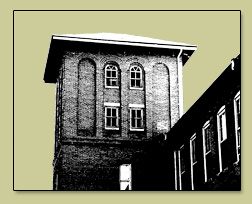 It's Old Home Weekend in Newmarket!
And on Saturday, in between the "Lobsta Feed" and music by 7th Son going on behind the High School at Leo Landroche field, come on downtown and join "We Dig Newmarket" for a Downtown Walking Tour (6–8 pm) and discover what's new and what's planned for the downtown.
Learn and ask questions with four stops on a stroll through town, covering downtown revitalization (at the Elm St. parking lot), downtown construction status (across from the post office, at Arbor Park), mill development (at the lower millyard), and community space in the mills (mills courtyard). New info sessions will begin every 15 minutes or so. There will also be free ice cream being served up along the waterfront down at Schanda Park, with live music performed by The Ray Demarco Trio. The event is sponsored by "We Dig Newmarket."
And, of course, don't forget to stop in at the gallery here at Ampers&, to view a special collection of large-format images of Newmarket's mills, from the archives of the Newmarket Historical Society.
About WE DIG NEWMARKET
We Dig Newmarket members include: the Lamprey Arts & Culture Alliance, the Newmarket Business Association, the Newmarket Community Development Corporation, and the Newmarket Main Street Corporation; in partnership with the Town of Newmarket. The group's main purpose is to help promote the revitalization of the downtown, and support local businesses during construction.
About LACA
The Lamprey Arts & Culture Alliance (LACA) is a private, member-supported, volunteer, 501(c)(3) non-profit organization, whose mission is to support the arts, culture and heritage of Newmarket and its surrounding communities. For more information, visit their website at www.lampreyarts.org.
About Ampers&
Ampers& Studio | Gallery (125 Main Street, at Rivermoor Landing, lower level) is located in the historic "No. 6 Mill" of the Newmarket Manufacturing Company, which sits on the bank of the Lamprey River in the heart of downtown Newmarket, NH. The gallery is exclusively dedicated to exhibits featuring Lamprey Arts & Culture Alliance (LACA) artist-members & Newmarket-centric historical exhibits. Normal gallery hours are Tue-Wed-Thu, from 2-6 PM* or by appointment. Please call ahead to verify: 603-659-6823.
*Hours may change to facilitate client meetings and project deadlines. Call first to verify: 603-659-6823.