ampers& gallery: Past Events
ARTIST-OF-THE-MONTH EXHIBIT
ERIK JOHNSON | two worlds
may 19–june 16, 2006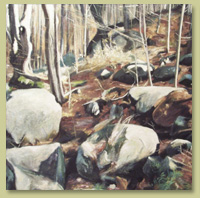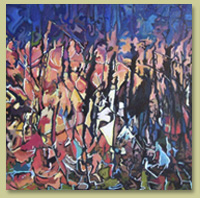 Opening Night Artist's Reception, Fri, 5/19, 6–8 PM
Come Hell or High Water…the show must go on!
It's been a crazy few days here in our corner of the world, with amazing amounts of water flooding out roads and neighborhoods all over town. But hey, the show must go on, right? Local and state officials (even the National Guard!) have been working hard and are doing a great job of getting things cleaned up and opening the roads to and from Newmarket.
We're happy to report that all is well again here at Rivermoor Landing, situated on the banks of the Lamprey River (just down stream from that dam that was on every news channel in the country...!).
Come on over to Newmarket and help us celebrate those receding flood waters
Erik Johnson's solo exhibit, entitled "Two Worlds," opens on Friday night, with an artist's reception, from 6 to 8 PM. A Newmarket resident, Erik's work can been seen at galleries all around the New Hampshire seacoast area. He was recently accepted as a candidate for a Master of Fine Arts degree from the University of New Hampshire, and will begin his two-year program of study this fall. "Two Worlds," which the artist refers to as a solo exhibition of "paintings of my objective and fractured realities," is aptly named. Johnson demonstrates his talents for capturing the natural beauty and tranquility of a simple clearing in the woods; and then juxtaposes those harmonious canvases with some truly amazing fractal images (from who knows where!? they are other-worldly indeed...).
So come on out to Newmarket, check out some wonderful art by an amazing local artist; grab a bite to eat on Main Street, and take a stroll around town to marvel at the dam and the river, and reflect upon the recent wrath of Mother Nature.