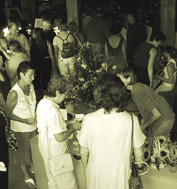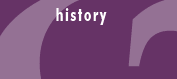 ampers& gallery: Past Events
FIBER ART | times four
april 6–27, 2007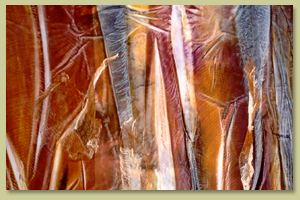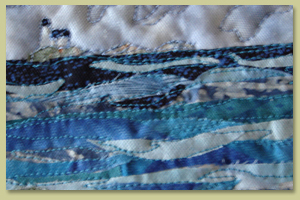 four fabulous fiber artists featured
The gallery at Ampers&® is featuring a collection of works from four local fiber artists during the month of April. Jodi Adams, Judith Berlo-Tucker, Judy Marble and Claire Russo, all of the seacoast area, present an array of painted, printed, dyed, discharged, stitched and embellished fiber art. Each artist has a unique style and uses a variety of media to produce distinctive—and sometimes emotional—pieces for the audience to interpret. They draw upon nature, relationships, conversation and life's experiences for inspiration. These artists have been working at their art for many, many years and have exhibited both locally and nationally.
The exhibit, entitled "Fiber Art | Times Four," opens on Friday, April 6, 2007, with an artists' reception open house from 6–8 PM at Ampers& Studio | Gallery in downtown Newmarket, and will remain on display through April 27.
ABOUT THE ARTISTS
In her thirty years of quilting, Jodi Adams has studied and worked with many talented, well-known quilting artists in Virginia and New Hampshire, researched dozens of projects, and taught small groups. Her work, the vast majority of which are quilts in a wide range of sizes, has earned several awards in competitions over the years. Her projects also include "quilted landscapes" and more recently, "quilted fish," which she researches for their color and habits, and enjoys incorporating these details into her finished pieces.
Judith Berlo-Tucker is a fiber artist living in Greenland, who works with a variety of dyed, painted and commercial fabrics. Her art is an extension of her giving personality, and that quality is often easily seen reflected in her work. She has recently sold her art at Collectors Eye on the circle in Stratham.
Judy Marble is a self taught fiber artist from Stratham. Her painted surfaces are created with watercolors, textile paints, inks & dyes, and are manipulated with hand- and machine-stitching. Much of her inspiration comes from nature, words and conversations with others. She has exhibited at Ampers&; Art-3 Gallery in Manchester, NH; the Whistler Museum in Lowell, MA; and several other galleries in Maine and Massachusetts. (Editor's Note: Judy received a "Juror's Choice" award at the Lamprey Arts & Culture Alliance's 2006 Juried Show & Competition for her entry, Yellow Sings.)
Claire Russo is retired from a 34-year career of teaching art to children in grades 1-7. She was selected as the Master Art Teacher for the state of New jersey in 1985 by Governor Thomas Kean. She has a BA in Fine Art from Montclair University and an MA in Education from Jersey City State. She is a member of Seacoast Art Association, Seabreeze Quilt Guild, Lamprey Arts & Culture Alliance, and the Piscataquilters Guild, and serves as president of the Rye Garden Club. Claire moved to the seacoast in 1999 with her husband Barry where she has become an active painter, working mostly in fabric and watercolor. It is the extraordinary shapes, textures and colors of the New England seacoast, the Adirondacks, and the natural world that she tries to capture in her work.
…AND ONE, MAKES FIVE!
We also have a collection of hand-made wool rugs on display, created by local craftswoman Lorraine Morong. Lorraine uses the shirret method, a combination of shirring and crochet techniques, to make these wonderfully colorful and durable rugs.
About Ampers&
Ampers& Studio | Gallery is located in an historic mill building at 125 Main Street (Rivermoor Landing Condominium, lower level), in the heart of downtown Newmarket, NH. Normal gallery hours are Mon-Thu, from 2-6 PM*, and by appointment.
*Hours may change to facilitate client meetings and project deadlines. Call first to verify: 603-659-6823.