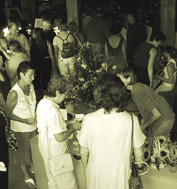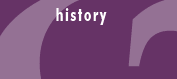 ampers& gallery RE-OPENS on FRIDAY, FEBRUARY 12!
a lamprey Arts & culture Alliance artist-of-the-month exhibit
HOLLY O. HARRIS | transitions: a retrospective
feb 12–mar 4, 2010
The gallery at Ampers& returns!
Join us for a community-wide, opening night celebration on Friday, February 12, 6–8 PM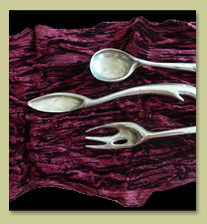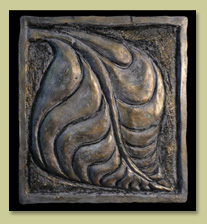 AFTER A THREE MONTH HIATUS, proprietor and curator Kimberly Foss is happy to be back, and pleased to announce the 2010 kick-off exhibit in the gallery at Ampers& Studio.
Beginning in February, the Lamprey Arts & Culture Alliance (LACA) will present an artist-of-the-month exhibit featuring the works of local artist Holly O. Harris. Her solo exhibit, Transitions: a retrospective, opens Friday, February 12, with a community-wide celebration of the gallery's return, from 6 to 8 PM, at Ampers& in downtown Newmarket.
"I have always been interested in design and beautiful functionality," says Holly. "I believe in integrating art into our daily lives. For this reason, the bulk of my work is multi-dimensional."
From a hand-carved chess set, to pewter flatware, to a cast cement paver, to a soft sculpture installation, Transitions is a wonderfully diverse collection of Harris's artistic creations. Her exhibit runs through March 4 and, in addition to the opening night celebration on 2/12, is open to the public Tuesday through Thursday afternoons, from 2-6 PM each day.
RSVP ONLINE!
Did you know that LACA has a Facebook page, where they post updates on programs and invitations to their events? You can RSVP to our opening night celebration online, thru Facebook, by clicking here. You don't have to be a Facebook user to reply—but joining is a fun way to keep in touch with what's happening!
ABOUT THE ARTIST
According to Durham, NH, resident Holly O. Harris, "This show is called Transitions for a variety of reasons. As a retrospective of my work, there is the obvious movement through time and my evolution as an artist. Because I believe in lifestyle as art, I have experimented with lots of media. In addition, I like to translate objects into different media: a leaf as a door handle, lace as sea foam, soft rocks. Much of my recent work involves water as it transitions from place to place. Many were created while sailing or transitioning. Created environments are transitions."
Holly cites Nature as her greatest source of inspiration, with "its awe-inspiring beauty, design, complexities, seduction, similarities and repetitions throughout the natural world." As both a landscape designer and artistic floral arranger, Harris feels the need to be constantly in touch with the natural world. "I make a point of having flowers and plants around me constantly. I play with the idea of transitions between the manmade and natural worlds."
After graduating Colgate University with Honors in Fine Arts, Harris worked a few years in video and film production. She worked and traveled through the Philippines and Southeast Asia, always attracted to native handicrafts around the world. Twenty years of gardening and landscape design furthered her study of the natural world. She has been studying with a master in Ikebana Ikenobo, the most ancient form of Japanese flower arranging, for thirteen years. She has taught classes in calligraphy, batik and woodcarving. She has studied at the Carving Studio & Sculpture Center in West Rutland, Vermont and The Sanctuary Arts in Kittery, Maine.
Holly has recently shown her work at the Wentworth-Coolidge Center for the Arts in Portsmouth, NH, two juried exhibitions of NH Women artists at St. Anselm College in Manchester and at UNH's university museum just this last year. She has also exhibited several pieces at the Belknap Mill Society in Laconia, NH.
About Ampers&
The gallery at Ampers& Studio (125 Main Street, at Rivermoor Landing, lower level) is located in the historic "No. 6 Mill" of the Newmarket Manufacturing Company, which sits on the bank of the Lamprey River, in the heart of downtown Newmarket, NH. The volunteer, non-profit gallery is exclusively dedicated to exhibits featuring Lamprey Arts & Culture Alliance (LACA) artist-members and Newmarket-centric exhibits. Normal gallery hours are Tue-Wed-Thu, from 2-6 PM* or by appointment. Please call ahead to verify: 603-659-6823.
About LACA
The Lamprey Arts & Culture Alliance is a private, member-supported, volunteer non-profit organization, whose purpose is to support the arts, culture and heritage of Newmarket and its surrounding communities. For more information, visit their website at www.lampreyarts.org.
*Hours may change to facilitate client meetings and project deadlines. Call first to verify: 603-659-6823.