ampers& gallery: PAST EVENTS
SHADES OF GREEN | irish art, green beer
mar 16–30, 2007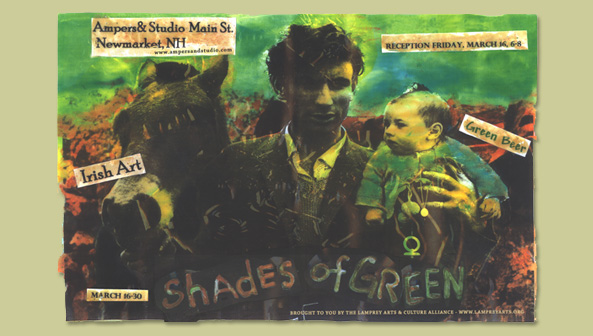 A decidedly non-traditional exhibit celebrating our Irish roots,
including an eclectic mix of art, sculpture & photography.
[ read more, from "the wire," here ]

We'll also have afro-Celtic music, live story-telling,
historic photo enlargements with narratives,
a variety of Celtic-inspired jewelry and collectibles, and a
veritable bounty of food & drink at the opening night reception

FEATURING

John-Michael Albert
Judith Cassell
Flynn Donovan
Peter Donovan
Edouard Langlois
Sarah Low
Shaune McCarthy
Mary Ellen McKeen
Adam Noga
New Market Historical Society
Cara O'Connell
T. Sampson
Elizabeth Stewart
Judy Wall
Cappy Whelan

Food donations by
Joyce's Kitchen
Shaw's Supermarket

Brought to you in part by the
Lamprey Arts & Culture Alliance
of Newmarket, NH
Celebrate Your Irish Roots
JUST ADDED: Due to the snow storm on 3/16, LACA will hold a "Second Chance" Artists' Reception on Wednesday, March 28, from 6–8 PM. Don't miss this terrific exhibit!
'Tis true: Everyone is Irish on St. Patty's Day and there's no need for an excuse to celebrate! So join us at Ampers&® Gallery in Newmarket, on Friday, March 16th (6–8 PM) in celebration of (y)our Irish roots. We'll have a terrific line-up of art, music, storytelling, food & drink for your trouble. Admission is free; suggested donation: $3.
Shades of Green (minus the pub grub and green beer, of course) will remain up through the end of the month.
About Ampers&
Ampers& Studio | Gallery is located in an historic mill building at 125 Main Street (Rivermoor Landing Condominium, lower level), in the heart of downtown Newmarket, NH. Regular gallery hours are Mon-Thu, from 2-6 PM*, and by appointment.
*Hours may change to facilitate client meetings and project deadlines. Call first to verify: 603-659-6823.