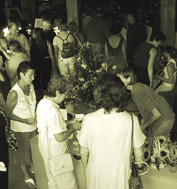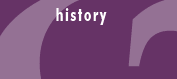 ampers& gallery: PAST EVENTS
ARTIST-OF-THE-MONTH EXHIBIT
JUDY MARBLE | changing seasons
jun 23–jul 28, 2006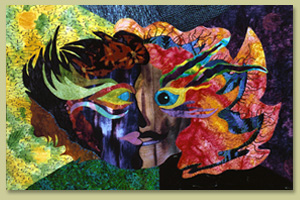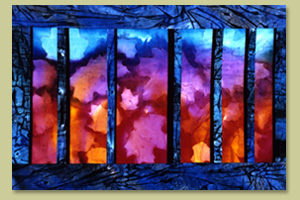 Opening Night Artist's Reception, Fri, 6/23, 6–8 PM
Wine Tasting Event, Fri, 7/28, 7–9 PM (by reservation only)
Summer is here!
Come celebrate the change in seasons with Judy Marble, at her opening night reception, on Friday, June 23, from 6–8 PM. Enjoy a cool drink, light refreshments and beautiful fiber art!
FOR THE LOVE OF FIBER
Judy Marble, fabric artist, printmaker and teacher, finds that the answers to many of life's questions can often be found "in the process of making art." According to Judy, "The process is meditative and gives one a chance to be quiet and listen to the voices inside. The answers may be helpful in solving day-to-day problems or the answers may be related to the art that is being created and how to proceed. Either way, they are there and want to be heard.
"My objective is to explore the unlimited ways to paint and texturize fabrics, transforming them into intriguing art pieces." Her background in painting and texturizing fabrics is varied, having studied dying, marbling, resisting, and painting & printing with a number of textile artists. Says Marble, "Each technique I have learned has influenced the next."
Incorporating a variety of surface design and embellishment techniques in her creations, the Stratham, NH resident shares a common thread with all fiber artists: a love affair with fiber, texture and color. "Changing Seasons," a collection of her colorful works will be on display at Ampers& Gallery, from June 23 through July 28, 2006.
laca WINE TASTING EVENT!
Make plans to see Judy's work, and meet the artist, during the Lamprey Arts & Culture Alliance (LACA) "Wines of the World" wine tasting event, to be held from 7–9 PM on the final night of this show. The first in a series of LACA educational wine tasting events, we'll be learning about and sampling a selection of six French wines (three red; three white) paired with gourmet French cheeses. Seating is limited, and reservations are being taken on a first-come, first-served basis. To learn more, click here.