ampers& gallery past events: ree katrak
a lamprey Arts & culture Alliance artist-of-the-month exhibit
REE KATRAK | making marks
jan 16–feb 13, 2009
Join us for opening night: Friday, January 16, 6–8 PM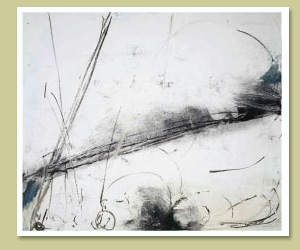 The gallery at Ampers& kicks off the new year with a LACA artist-of-the-month exhibit featuring the works of Durham, NH, artist Ree Katrak. Her solo exhibit, Making Marks, opens Friday, January 16, with an artist's reception from 6 to 8 PM.
"My work is an affirmation—or expression—of my own curiosity and delight in looking and seeing," explains Katrak. "Looking at a landscape, an arrangement of objects and not only interpreting what is seen, but also experiencing the moment of seeing.
"For me, art is about being awake, remembering you are alive. It is a celebration of all one's experiences—the dark times and the bright times— when we feel suffering and when we feel liberation."
The subject matter of Ree Katrak's work originates from her memory and her imagination and is utterly organic. However, she finds that she is strongly influenced by the Northern California coast where she grew up, and by the New Hampshire coast where she presently lives. Water is a recurring theme and the colors and patterns are very evocative of these places.
For many years, Ree has enjoyed working with watercolors. She feels that the application of that first stroke of color or flooding paint into an area is a visceral experience, very physical.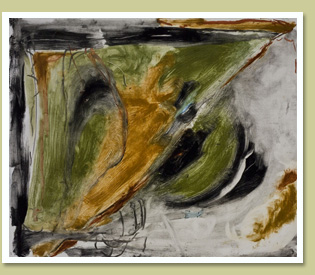 And although some may find the unforgiving quality of the medium a negative, she finds it entirely appropriate. "It's this immediacy that I find so inspiring." In recent years she's found herself taking that same approach in the creation of monotypes, working to maintain a balance between painting and printmaking with an emphasis on the painterly qualities.
"I think of myself as a painter, not as a printmaker, she says. "Like the watercolors, I enjoy the accidental aspect of the process. Applying ink, making marks, looking for spontaneity, but not randomness."
Katrak has studied drawing with Boston artist Ellen Sinclair Junger; printmaking and painting at Ecole de Beaux Arts in Lausanne, Switzerland; graphic design at the Rhode Island School of Design and the Art Institute of Boston; and painting and monoprint at the deCordova Museum School and the New Art Center. Her award-winning works have appeared in a variety of solo and group shows and numerous distinguished juried exhibitions. Katrak is a member of several art associations, including the Concord Art Association, the Durham Art Association, the Lamprey Arts & Culture Alliance, the New Hampshire Art Association, and the Ogunquit Art Association.
About Ampers&
The gallery at Ampers& Studio (125 Main Street, at Rivermoor Landing, lower level) is located in the historic "No. 6 Mill" of the Newmarket Manufacturing Company, which sits on the bank of the Lamprey River, in the heart of downtown Newmarket, NH. The volunteer, non-profit gallery is exclusively dedicated to exhibits featuring Lamprey Arts & Culture Alliance (LACA) artist-members and Newmarket-centric exhibits. Normal gallery hours are Tue-Wed-Thu, from 2-6 PM* or by appointment. Please call ahead to verify: 603-659-6823.
About LACA
The Lamprey Arts & Culture Alliance is a private, member-supported, volunteer non-profit organization, whose purpose is to support the arts, culture and heritage of Newmarket and its surrounding communities. For more information, visit their website at www.lampreyarts.org.
*Hours may change to facilitate client meetings and project deadlines. Call first to verify: 603-659-6823.