ampers& gallery: PAST EVENTS
special pre-show sneak preview exhibition
PATRICIA KAUFMAN | warriors of the clouds
MAUREEN REARDON | mother shields

two days only, may 13 & 14, 2006
2-6 pm each day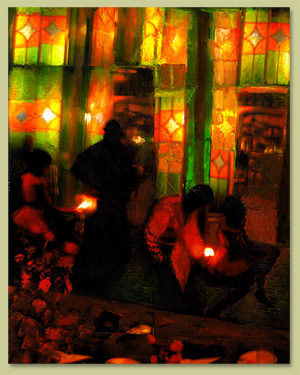 Take Mom for a stroll on Main Street in Newmarket, during the upcoming ArtWalk on Main Street Celebration, Mothers' Day Weekend, May 13 & 14, 2006.
This two-day event, sponsored jointly by the Lamprey Arts & Culture Alliance (LACA) and the Newmarket Business Association, brings together nine businesses on Main Street, displaying art and offering specials and discounts for moms who mention the LACA ArtWalk.
The ArtWalk on Main Street will be anchored by an exclusive pre-show sneak preview of Patricia Kaufman's "Warriors of the Clouds" exhibit, before it goes to a national gallery, and Maureen Reardon's "Mother Shields" sculpted art jewelry creations, both on display at Ampers&® Studio | Gallery, from 2 to 6 PM each day. Admission is free; donations accepted.
Patricia Kaufman
Kaufman's "Warriors" art was inspired by a missionary trek through the mountains of South America in the summer of 2005, where she visited and worked with families from the tiny mountain village of Atuen, Peru. In addition to her exhibited works, there will be an ongoing video presentation highlighting her experiences on the trip. Selected prints of her "Warriors of the Clouds" works will be offered for sale, with proceeds going to buy school supplies for the children of Atuen. Patricia will be present both days to meet and speak with visitors about her art and her journey.
Patricia Kaufman is a mature artist who creates for the sole purpose of self-expression and exploration. "I am an autobiographical painter," Kaufman says. "It's my experience; it's personal." She is hopeful that in giving honestly of her emotions on canvas, the personal becomes universal as viewers recognize something of their own experiences and are moved. The collages and paintings of Patricia Kaufman are of a more intimate nature, concerned with images of self and individual reactions. Kaufman received her BFA with honors, as well as her Masters of Teaching, from the University of New Hampshire and is a member of the New Hampshire Art Association.
Maureen Reardon
A series of "Mother Shields" sculpted art jewelry, designed and created by Artist Maureen Reardon, in found object, precious & non-ferrous metals will also be available for viewing and purchase.
Since 1975, Maureen Reardon has had experience operating a small design studio, open to the public in Portsmouth, NH and Kittery Point, ME. Metalsmithing methods applied in her studio career evolved through a self-apprenticeship relying upon a personal exploration of nature and an intuitive process. Although she acquired the skills of a fine jeweler, she continued to draw on her inspiration as an Artist, always returning to the task of developing a vocabulary of forms and textures referred to as "primitive rhythm in a contemporary framework™," conceptualized from a jewelry to architectural scale in metal. Styling the layout in preparation to barter with photographers to document her body of work, she gained an observer's knowledge of the lens and lighting possibilities. Intent on developing her own source material, conceptual art became a vehicle for creativity, even writing on metal through a cold-hammered technique, to follow a stream of consciousness leading her forward, seeing the sacred in found objects— the land, water and sky. In addition, a ten year life-style shift to San Diego, California from 1982–1992 strengthened her awareness of the dynamics present to a multicultural community.