ampers& gallery: PAST EVENTS
a COMMUNITY Celebration of ART, literature & music—and holiday cheer!
LACA | autumn arts showcase
nov 9–dec 15, 2006
holiday celebration: december 15, 4–8 pm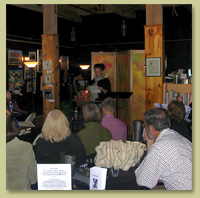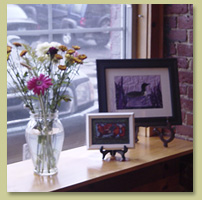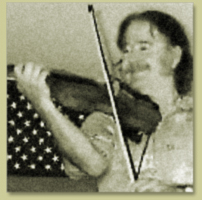 Mark your calendar for another Lamprey Arts & Culture Alliance (LACA) Autumn Arts Showcase, November 9–December 15, 2006. This popular LACA event features the work of more than two dozen local artists, on display and offered for sale at the gallery. In addition LACA has four great special events planned, celebrating art, literature, music, and holiday cheer! Come to one or all four—and bring a friend!

literature!
Spoken Word
Thursday, November 9, 7–8:30 PM
First launched in the summer of 2005, LACA's "evening of spoken word" events have really been a hit—so much so, in fact, that they have now become a monthly event. LACA has moved their location to Crackskull's Book Store on Main Street in Newmarket, where participants and audience meet on the second Thursday of each month to enjoy a wonderful evening of poetry crafted by local wordsmiths. The Spoken Word event is open to the public and admission is free (donations accepted). Interested in sharing your work? Contact Arlon for more info, or to get signed up in advance.
art!
Opening Night Artists' Reception
Friday, November 10, 6–8 PM
Paintings, prints, photography, jewelry and more can all be found at this wonderful community celebration of art in the seacoast. Join the fun as LACA honors participating artists with an artists' reception to be held at Ampers&, featuring a viewing gallery, artist meet-and-greets—and wine & cheese of course. The reception is open to the public and admission is free (donations accepted) Please come and support your art community. (Perhaps you'll even find that perfect holiday gift at the same time…!)
music!
Captain Fiddle is in the House!
Friday, November 17, 6–8 PM
LACA is pleased to present a very special guest artist, local folk musician Ryan Thomson (aka "Captain Fiddle"). Thomson is an award-winning music and dance professional, who performs weekly on fiddle, banjo, flute, piano, accordion, pennywhistle, and other instruments as well. Come on downtown to Ampers& and hear him play on Friday night in a wonderfully intimate setting, surrounded by beautiful art. Always a delightful performer, this Newmarket resident and local favorite is sure to entertain us all. He will also have copies of his CDs on hand for purchase. While admission to this event is free, a suggested donation of $3/person is appreciated. Seating is limited, and these events are well-attended, so we suggest you arrive early to get yourself a good spot!
HOLIDAY CHEER!
Join us for a Community-wide LACA Holiday Celebration
Friday, December 15, 4–8 PM
Bring your neighbors, family and friends along to celebrate the season, and support the local art community. There'll be plenty of refreshments on hand and a wonderful selection of gifts created by local artists. Stop by and say hello! Bring along a plate of your favorite treats to share!
About LACA
The Lamprey Arts & Culture Alliance is a private, member-supported, volunteer non-profit organization, whose purpose is to support the arts, culture and heritage of Newmarket and its surrounding communities. All donations, and a portion of the proceeds for all sales during the artists' reception, will go to LACA, to help with establishing a permanent home for the arts in Newmarket.