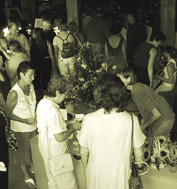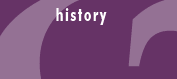 ampers& gallery: PAST EVENTS
a lamprey Arts & culture Alliance artist-of-the-month exhibit
N. ROSE LA MONTAGNE | sticks and stones
jan 12–feb 9, 2007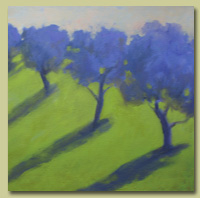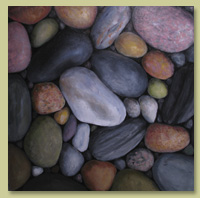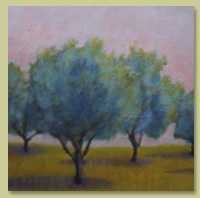 opening night ARTISTS' reception IS Friday, january 12, 2007 (6–8 PM)
N. Rose LaMontagne is an oil painter, art instructor, tour guide, and a facilitator for therapeutic art-making groups for people with cancer. She is also a survivor. Diagnosed with thyroid cancer in the 1990s, Rose drew upon her art background for inspiration and therapy, fought her cancer, and managed to bounce back. Realizing the therapeutic powers of art, she developed her passion into a career to help other cancer patients.
Then, in July of 2006, her home in Exeter burned to the ground in the middle of the night. She escaped with only the clothes on her back. If not for her roommate, she might not be alive today. Again, Rose turned to her art as a source of expression and healing. Happily, the essence of her beauty, character, courage and strength are alive and well in her paintings.
LaMontagne was educated at the New England School of Art and Design in Boston and at Montserrat School of Visual Arts in Beverly, MA, with enrichment classes at Massachusetts College of Art. Her oil paintings have been on exhibit throughout New England and Virginia. Raised in Chicago and Massachusetts, she has lived in Southern NH since 1976. Rose recently moved to Newmarket, but her PigsFly Studio has been in Exeter since 1994. Travels throughout the US, Canada, France—and especially Italy—give her inspiration for her non-traditional landscapes. Her love of travel compelled her to switch careers once more; she recently became a tour guide for a travel agency. With this exposure to endlessly new destinations, her source of influence for future artwork is boundless.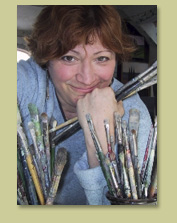 "I love to work in large format," says LaMontagne. "It allows me the freedom to express the atmosphere of a landscape by pulling the viewer into the painting. I try to convey not just a scene, but the feeling of a specific place and time—the changing colors, the aromas, the expanse of space, the feel of the sun or mist on your skin, the sounds or the silence. I invite the viewer to step inside the moment with me, to experience the landscape in their own way."
MEET THE ARTIST
LaMontagne's newest exhibit, aptly entitled "sticks and stones," will be shown at Ampers&® Gallery in Newmarket, from January 12 through February 9, 2007. With the holidays behind us, it's time to treat yourself to some fun. Why not make a night of it? Come on out and join us in Newmarket for N. Rose LaMontagne's opening night reception, Friday, January 12, from 6–8 PM. Afterwards, take a stroll along the Lamprey River, grab a bite to eat or get a cup of coffee downtown, or make plans to check out a show across the street at The Stone Church Music Club.
special wine tasting
Additionally, Ampers& will be hosting a Lamprey Arts & Culture Alliance wine tasting/educational event on the final evening of Rose's exhibit, February 9, from 6:30–9 PM. Especially for Valentine's Day, this session will feature wine & chocolate pairings, and will be presented by Portsmouth wine expert Carla Snow, of A Grape Affair. There will also be live piano music by Leif Gerjuoy from 6:30-7:00, affording guests the opportunity to come early and enjoy some acoustical music while viewing Rose's art and browsing a selection of beautiful handmade jewelry by a handful of talented local artisans. The tasting will begin promptly at 7:00 PM. Seating is limited and reservations are required. Contact lorelei.nh@comcast.net for reservations, or click here for more info.
Ampers& Studio | Gallery is located in an historic mill building at 125 Main Street (Rivermoor Landing Condominium, lower level), in the heart of downtown Newmarket, NH. Regular gallery hours are Mon-Thu, from 2-6 PM*, and by appointment.
*Hours may change to facilitate client meetings and project deadlines. Call first to verify: 603-659-6823.