ampers& gallery: PAST EVENTS
FROM THE lamprey Arts & culture Alliance ARTIST-OF-THE-MONTH SERIES

MAGI LELAND & LYNDA KODWYCK | landscapes near and far
Nov 7–26, 2008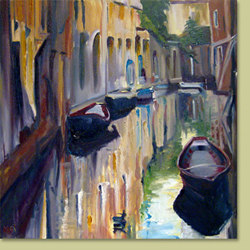 Artists' Opening Night Reception is Friday, Nov 7th, from 6–8 PM
LIVE VICARIOUSLY THROUGH THE WONDERFUL LANDSCAPES
OF TWO LOCAL ARTISTS WITH A PASSION FOR ART AND TRAVEL

The Lamprey Arts & Culture Alliance's (LACA) popular artist-of-the-month series returns this month, featuring the combined works of local artists Magi Leland and Lynda Kodwyck. Entitled Landscapes Near and Far, the show opens on Friday, November 7, with an artist's reception from 6 to 8 PM, in the gallery at Ampers&® in downtown Newmarket.
While recently on location in the Balkans, Leland and Kodwyck painted and collected materials through sketches and photos to add to their body of international works. These are being paired with their regional landscapes for this wonderful two-woman show. Landscapes runs through November 26 and, in addition to the opening night event, is open to the public Tuesday through Thursday afternoons, from 2-6 PM each day.

A SPECIAL OFFER FROM THE ARTISTS
During the reception, take an additional 10% off your purchase of any of Magi's or Lynda's exhibited pieces.

About LYNDA KODWYCK
Lynda Kodwyck is an accomplished multi-media artist from Rye, NH. She majored in Fine Art at UNH where she chose John Hatch as her mentor, and has studied with Rockport artist Richard Gibney, the renowned French muralist Pascal Amblard at The Finishing School in Long Island, and with area master artist Adeline Goldminc-Tronzo as well.
"My intention, when I make art, is two-fold: to depict my personal interpretation of any subject matter in a boldly colorful, painterly, and accurate manner, AND, to capture the imagination and emotions of the viewer just as the subject captured mine," says Kodwyck.
Formerly a watercolorist specializing in florals and portraits, Lynda began painting murals and trompe l'oeil using acrylics and latex emulsion in 2001. In 2003, she began concentrating on her fine art endeavors, working first with acrylics and then moving back to her favorite medium as a student, oils. Working almost exclusively in oils now, her body of work includes figurative, still life, imaginative, and plein air paintings. Whether painting from life—or from her imagination—Kodwyck's interpretations of people, places, and objects are uniquely bold, colorful, and light-filled and are built upon the solid "bones" of a skilled draftsman. [ more ]

About MAGI LELAND
A circuitous route from anthropology and folklore, through an 18-year career in goldsmithing and hand engraving, has brought Magi Leland to her original love of painting. "The learning curve is steep as I acquire techniques from past and current masters. I owe much of my understanding to my mentors: Adeline Goldminc-Tronzo, Stan Moeller, Marguerite Robichaux, Holly Alaimo, my son Benjamin, with his discerning eye, and to my painting colleagues as well."
Magi's greatest inspirations come from plein air painting on location, and residing on the NH Seacoast provides easy access to her favorite muses: marshes, seascapes, farmlands and nearby mountains. She enjoys traveling abroad when possible, to challenge her skills with different landscapes, colors, textures and lighting. Back in the studio, Leland enjoys composing and painting still lives, and finds figure drawing to be an essential discipline for the eye and hand. Magi also practices Reiki healing, writes poetry, and sings soprano with Voices from the Heart in Portsmouth. [ more ]

About Ampers&
Ampers& Studio | Gallery (125 Main Street, at Rivermoor Landing, lower level) is located in the historic "No. 6 Mill" of the Newmarket Manufacturing Company, which sits on the bank of the Lamprey River, in the heart of downtown Newmarket, NH. The gallery is exclusively dedicated to exhibits featuring Lamprey Arts & Culture Alliance (LACA) artist-members & Newmarket-centric historical exhibits. The gallery is open to the public Mon-Thu, from 2-6 PM each day*, with special group visits by prior arrangement. (School groups: please contact gallery@ampersandstudio to inquire.)
*Hours may change to facilitate client meetings and project deadlines. Call first to verify: 603-659-6823.