ampers& gallery: PAST EVENTS
a lamprey Arts & culture Alliance artist-of-the-month exhibit
SHAUNE McCARTHY | People I Know
oct 6–nov 3, 2006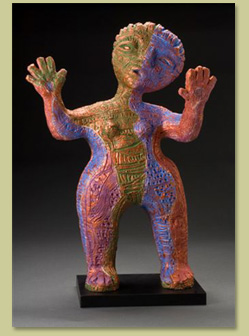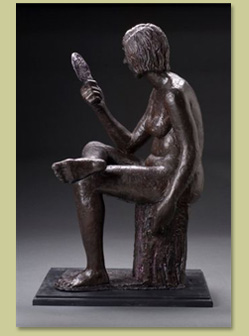 opening night ARTISTS' reception IS Friday, October 6, 2006 (6–8 PM)
Shaune McCarthy's figurative sculptures are a joyful combination of physicality, intellectual intent and the human spirit. Her powerful sculptures have a grounded yet universal quality that one can feel and inhabit—they beg to be touched. "I work toward creating figurative sculpture that has its own essential humanity, integrity and reality. I have always been attracted to clay as a primal medium—it was used by the ancients, and the sculptures and vessels they made still survive as symbols of our culture and our perseverance. And…while I continue in this tradition, I also have the joy of discovering new worlds in each piece I create."
McCarthy grew up in the Midwest, studied dance and theater in NYC and then settled with her family in Somersworth NH. She now works full-time out of her studio at the Salmon Falls Mill in Rollinsford, NH. Her creative process is unusual; "Rather than build with slabs or coils I carve my figures out of solid blocks of clay. I like the freedom and spontaneity of teasing and pulling the form out of the clay as it speaks to me. I then slice and hollow the figure, adding details as I reassemble." McCarthy finishes the surface of her figures with oxides or under-glazes and often a patina of rubbed-in paint applied over incised drawings. This adds an element of design and mystery while retaining the natural integrity of the clay surface.
Shaune graduated with honors from Ohio University, Phi Kappa Phi from the University of NH and has studied at Bennington College VT, as well as Haystack Mountain school of Crafts in Deer Isle, ME. Her dynamic and evocative sculpture is held in numerous private collections as well as several public spaces.
MEET THE ARTIST
McCarthy's newest exhibit, entitled "People I Know," will be shown at Ampers&® Gallery in Newmarket, from October 6th through November 3rd, 2006. As a further extension of her experiments with color and line, Shaune also enjoys print making, and will complement her display of whimsical three-dimensional works with a number of bold and beautiful abstract monotype prints.
So come on over to Newmarket. Take a stroll along the Lamprey, grab a bite to eat downtown, and stop in for Shaune's opening night reception, Friday, October 6, from 6–8 PM.
Additionally, the Lamprey Arts & Culture Alliance (LACA) will be hosting another "Wines of the World" tasting/education event on the final night of the exhibit (Fri, Nov 3, from 7–9 PM). Shaune McCarthy will be on hand that evening as well. For more information, or to make wine tasting reservations, contact LACA.
Ampers& Studio | Gallery is located in an historic mill building at 125 Main Street (Rivermoor Landing Condominium, lower level), in the heart of downtown Newmarket, NH. Regular gallery hours are Mon-Thu, from 2-6 PM.