ampers& gallery: sneak preview opens sept. 10
a very special collaborative exhibition, brought to you by the
lamprey Arts & culture Alliance and the New market Historical Society
MERCHANTS OF MAIN STREET | remembering newmarket's past
sep 10–oct 18, 2007
SPECIAL WEEKEND HOURS FOR THE HERITAGE FESTIVAL:
Open Sat (9/22), 12–5 and Sun (9/23), 11–3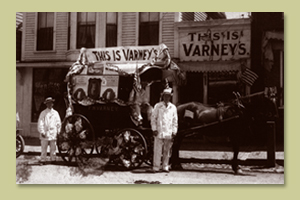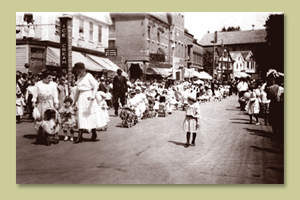 RETRACE THE HISTORY OF NEWMARKET's industrious past
While the mills certainly took center stage in the growth of Newmarket, they were, by no means, the only game in town. Take a stroll back through time and learn about the commerce and industry of Newmarket's past: listen to memories about past merchants, shared with us by Newmarket natives; search among the townspeople in enlarged photographs for a familiar face; and marvel at how the downtown has changed over time—or, in some cases, has remained much the same.
Presented by the Lamprey Arts & Culture Alliance (LACA), the exhibit will showcase a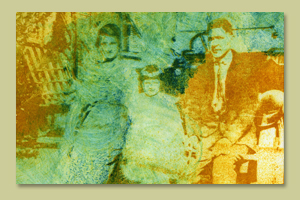 combination of images and artifacts from the archives of the New Market Historical Society, and feature the ever-popular folkloric art of Newmarket native Edouard Langlois and beautiful, mixed media interpretations of historic photos by Shaune McCarthy. A wide selection of handmade jewelry and handbags by several LACA artisans will also be available for purchase.
Admission is Free; $3 Suggested Donation. Proceeds to benefit the New Market Historical Society and the Lamprey Arts & Culture Alliance.

About Ampers&
Ampers& Studio | Gallery (125 Main Street, at Rivermoor Landing, lower level) is located in the historic "No. 6 Mill" of the Newmarket Manufacturing Company, which sits on the bank of the Lamprey River, in the heart of downtown Newmarket, NH. The Gallery is open to the public Mon-Thu, from 2-6 PM each day*, with special group visits by prior arrangement. (School groups: please contact gallery@ampersandstudio to inquire.) Special weekend hours during the Newmarket Heritage Festival (Sat, 9/22, 12-5 PM; Sun, 9/23, 11-3 PM).
*Hours may change to facilitate client meetings and project deadlines. Call first to verify: 603-659-6823.