ampers& gallery: opens sept. 20
a very special collaborative exhibition, brought to you by the
lamprey Arts & culture Alliance and the New market Historical Society
NEWMARKET MILLS RETROSPECTIVE | a stirring presentation of laborers,
looms and leatherworkers
sep 20–oct 16, 2008

SPECIAL WEEKEND HOURS FOR THE HERITAGE FESTIVAL:
Open Sat (9/20) and Sun (9/21), from 12–3 each day!
RETRACE THE HISTORY OF NEWMARKET's industrious past
A stirring presentation of laborers, looms and leatherworkers—during the industrial revolution, and on into Newmarket's shoe-industry era—presented by the Lamprey Arts &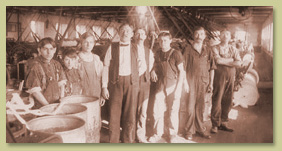 Culture Alliance (LACA).
The exhibit features a selection of large-format, historic photographs and artifacts from the archives of the New Market Historical Society, a Newmarket Mills timeline and a narrative essay on how the mills helped to define our community, some folkloric art by Newmarket native Edouard Langlois, and a video presentation based on the memoir of an immigrant millworker.
Additionally, a selection of plein air works, featuring landscapes from in and around Newmarket will be on display and available for purchase, along with a variety of handmade jewelry and handbags by several LACA artisans. Admission is Free; $3 Suggested Donation. Proceeds to benefit the New Market Historical Society and the Lamprey Arts & Culture Alliance.

About Ampers&
Ampers& Studio | Gallery (125 Main Street, at Rivermoor Landing, lower level) is located in the historic "No. 6 Mill" of the Newmarket Manufacturing Company, which sits on the bank of the Lamprey River, in the heart of downtown Newmarket, NH. The gallery is exclusively dedicated to exhibits featuring Lamprey Arts & Culture Alliance (LACA) artist-members & Newmarket-centric historical exhibits. The Gallery is open to the public Mon-Thu, from 2-6 PM each day*, with special group visits by prior arrangement. (School groups: please contact gallery@ampersandstudio to inquire.) Special weekend hours during the Newmarket Heritage Festival (Sat, 9/20, 12-3 PM; Sun, 9/21, 12-3 PM).
*Hours may change to facilitate client meetings and project deadlines. Call first to verify: 603-659-6823.