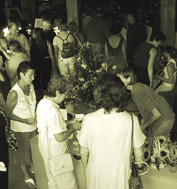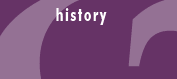 ampers& gallery: PAST EVENTS
A SPECIAL LACA PRESENTATION FOR GRADUATING SENIORS
OF NEWMARKET HIGH SCHOOL
NEWMARKET HIGH SCHOOL | senior portfolio show
june 6–12, 2008
Join us at the Opening Reception on Friday, June 6, from 6–8 PM!
Did you know that thirteen members of Newmarket High School's Class of 2008 will be continuing their studies in art next year at the college level? From a total class size of only 65 students, that's a full 20% of the class, which is quite remarkable. What are the odds?!?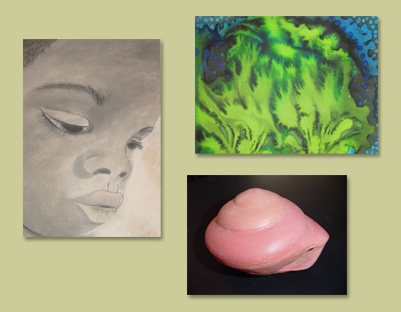 For one week only, June 6–12, the Lamprey Arts & Culture Alliance will honor those students by hosting a special exhibition of selected works from their portfolios here at the gallery at Ampers& Studio. The public is welcome to attend the opening night reception on Friday, June 6, from 6-8 PM. The exhibit—which will include over forty pieces of the students' best paintings, prints, photography, illustrations, and ceramics—will run for one week, through Thursday, June 12 (gallery open T-W-Th, 2–6 PM). Additionally, at the reception, LACA will hold a drawing amongst the thirteen exhibiting students and award a check for $100 towards the purchase of art supplies to one lucky winner.
"Promotion of the arts within our community is at the very heart of LACA's mission," says Ampers& gallery owner and LACA board member Kimberly Foss. "We are very pleased to be able to honor this special group of talented young artists."
Exhibiting seniors will include: Katie Archambault, who will be attending UNH to explore options in studio art; Cassie Bell, attending UMass Amherst to study Japanese and studio art; Andrea Blanchette, attending Great Bay Community College in Stratham to study graphic design and photography; Charlotte Chaffee, attending the Maine College of Art in Portland Maine with a concentration in graphic design; Brenton Ciccotelli, attending the New England Institute of Art to study graphic design; Stephanie Dreher, attending UMass Amherst to study Russian/ Eastern European Studies with a minor in art; Mike Drelick, who will be applying to Chester College in 2009 with a concentration in photography; Jamie Fairbanks, attending Plymouth State College to study business with a minor in ceramics; Lia Norman, who will be applying to college for the fall of 2009 with a painting major; Taj Phimansone, attending the NH Art Institute to study graphic design; Alli Puchlopek, who will be taking independent photography classes at the NH Institute of Art; Waka Tokuno, applying to Montserrat in Beverly, MA in the fall of 2009 to study illustration; and Danielle Walker, attending Johnson State College in Vermont with a focus in studio art and writing.
About LACA
The Lamprey Arts & Culture Alliance (LACA) is a private, member-supported, volunteer non-profit organization, whose mission is to support the arts, culture and heritage of Newmarket and its surrounding communities. For more information, visit their website at www.lampreyarts.org.
About Ampers&
Ampers& Studio | Gallery (125 Main Street, at Rivermoor Landing, lower level) is located in the historic "No. 6 Mill" of the Newmarket Manufacturing Company, which sits on the bank of the Lamprey River, in the heart of downtown Newmarket, NH. The gallery is exclusively dedicated to exhibits featuring Lamprey Arts & Culture Alliance (LACA) artist-members. Normal gallery hours are Tue-Wed-Thu, from 2-6 PM* or by appointment. Please call ahead to verify: 603-659-6823.
*Hours may change to facilitate client meetings and project deadlines. Call first to verify: 603-659-6823.