ampers& gallery PAST EVENTS: PAINT OUT AND wet paint sale
welcome to the sixth annual worldwide paint-out — and wet paint sale!
IN AND AROUND NEWMARKET | a collection of works by regional plein air artists,
completed during a three-day outing
Sunday, September 7, 2008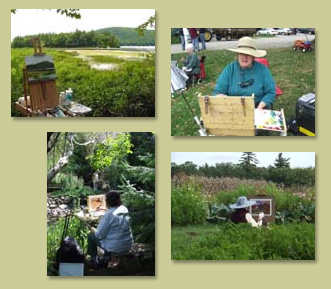 Join us on Sunday and meet the artists during our WET PAINT SALE from 3–6!

wolrd-wide paint out, you say?
Yes, on September 5, 6 and 7 some of the region's most talented outdoor painters will tote their paint boxes and easels to the Newmarket/Great Bay area to participate in the 6th Annual World-Wide Paint Out. This global art event is happening simultaneously in international locations around the world, and is hosted by the International Plein Air Painters (IPAP) organization. Local participation has been made possible through NHPleinAir Artists with the cooperation of the Lamprey Arts & Culture Alliance (LACA) and the gallery at Ampers& Studio in Newmarket.
This year, artists will be coming to paint in and around Newmarket from all over NH—everywhere from Sunapee, to Pittsburg, to Derry, to Exeter, and all points in between—and from coastal ME and northern MA as well. "We are very pleased to have this large group of artists converge upon Newmarket for this wonderful event," says gallery owner and LACA board member Kimberly Foss, "and look forward to viewing both the processes and the end results of their artistic endeavors."

PAINT OUT, IN AND AROUND NEWMARKET
NHPleinAir Artists invites all plein air artists from the region to join them on location from 10-4 on any or all of the three days. Painting locations (by permission) in the Newmarket/Great Bay area are as follows: on Friday, Sept. 5, painters will gather at Fox Point, a park in Newington which is normally open to Newington residents only; on Saturday, Sept. 6, they'll head to Lubberland Creek Reserve, a Nature Conservancy property on Great Bay in Newmarket. Artists and visitors should park at the Lubberland Creek Preserve parking lot on the north side of Bay Road, just down the road from the office; and on Sunday, Sept. 7, the artists have been invited to paint in various locations in the Town of Newmarket (such as Main Street, Schanda Park and Heron Point), and also at Chapman's Landing, south on Rt 108. On Sunday afternoon, LACA will host a "wet paint" sale here at Ampers&, entitled In and around Newmarket—featuring paintings produced during the three-day event.

COME OUT AND SEE ARTISTS AT WORK
The public is invited to join in the fun downtown on Sunday by watching individual artists as they work (10 AM–2:30 PM), and to move from painter to painter throughout the day to watch the paintings develop. The "We Dig Newmarket" group will sponsor the live music of Leif Gerjuoy and friends (Noon–3 PM) in the downtown area on Sunday, and The Riverworks, a favorite local watering hole, will offer "boxed lunch" specials for visitors to take along with them as they stroll amongst the artists, enjoying the live music. Visitors are encouraged to come view the completed works and meet the artists during Sunday afternoon's reception from 3–6 PM. All paintings will be available for purchase at that time.

About Painting en plein aire
Plein air artists seek the quality of natural light and atmosphere outdoors. Their artwork is in direct response to the beauty they find in nature. They use a variety of media, from oils, through watercolors and pastels. The style was first made popular in the mid-1800s by Barbizon School artists such as Corot, Daubigny and Millet, followed by the Impressionists—including Cezanne, Degas and Monet—who delighted in capturing the changing qualities of outdoor light on canvas.
IPAP, with members residing throughout the world, is the blanket organization for individual plein air groups and was created for the sole purpose of advancing the execution and enjoyment of plein air painting without limitations of borders or regions. Its members share inspiration and encouragement both on the Internet and at "paint outs." They encourage other artists to come out and paint with their fellow artists and share ideas.

About LACA
The Lamprey Arts & Culture Alliance (LACA) is a private, member-supported, volunteer non-profit organization, whose mission is to support the arts, culture and heritage of Newmarket and its surrounding communities. For more information, visit their website at www.lampreyarts.org.
About Ampers&
Ampers& Studio | Gallery (125 Main Street, at Rivermoor Landing, lower level) is located in the historic "No. 6 Mill" of the Newmarket Manufacturing Company, which sits on the bank of the Lamprey River, in the heart of downtown Newmarket, NH. The gallery is exclusively dedicated to exhibits featuring Lamprey Arts & Culture Alliance (LACA) artist-members. Normal gallery hours are Tue-Wed-Thu, from 2-6 PM* or by appointment. Please call ahead to verify: 603-659-6823.
*Hours may change to facilitate client meetings and project deadlines. Call first to verify: 603-659-6823.