ampers& gallery: past events
a special exhibition of newmarket-centric art
NEWMARKET VISIONS | art in the plein air style
aug 3–23, 2007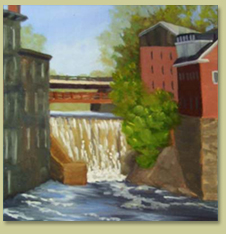 JOIN US FOR AN OPENING NIGHT ARTISTS' RECEPTION ON FRIDAY, august 3 (6–8 pm)
This August, the gallery at Ampers&® reopens with a collection of plein air style artwork depicting Newmarket's mills, waterfront and downtown areas, brought to you by the Lamprey Arts & Culture Alliance (LACA).
The exhibit, entitled "Newmarket Visions," opens on Friday, August 3, 2007, with an artist's reception open house from 6–8 PM at Ampers& Studio | Gallery in downtown Newmarket, and will remain on display through August 23. The gallery will also hold special weekend hours, Sat, Aug. 11 & Sun, Aug 12 (open from 10–2 each day) during Newmarket's 35th annual Old Home Weekend Celebration. In addition, LACA is offering 10% off all artwork and artisan jewelry & handbags (Sat & Sun only).
CAPTURING NEWMARKET ON CANVAS
In the fall of 2006, the NHPleinAir (NHPA) artists partnered with LACA to paint in Newmarket—focusing on the mills, the waterfront and downtown areas. From Oct. through the end of May 2007, NHPA set dates for members to travel to Newmarket and paint in groups, to record the current look and feel of our mill town. Artists and easels could be spotted throughout the fall, winter, spring and summer months, capturing our lovely mill town on canvas. This exhibit will be a culmination of the project, showcasing the finished works of more than a dozen local plein air artists. The next phase of Newmarket's Main Street project is slated to begin in the near future, and the waterfront mills are headed for redevelopment as well. Before long, the whole downtown will be changing right before our eyes! Stop in and see how these artists have helped preserve the memories of our town for posterity.
View all of the pieces here, on NHPleinAir's website.
ABOUT THE PLEIN AIR STYLE
En plein air is a French expression which means "in the open air," and describes the act of painting in an outside environment, in real-time, rather than indoors. The style was made popular in the mid-1800s by Barbizon School artists such as Corot, Daubigny and Millet, followed by the Impressionists—including Cezanne, Degas and Monet—who delighted in the changing qualities of outdoor light.
About Ampers&
Ampers& Studio | Gallery is located in an historic mill building at 125 Main Street (Rivermoor Landing Condominium, lower level), in the heart of downtown Newmarket, NH. Normal gallery hours are Mon-Thu, from 2-6 PM*, and by appointment.
*Hours may change to facilitate client meetings and project deadlines. Call first to verify: 603-659-6823.