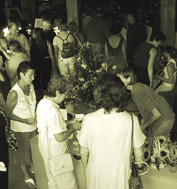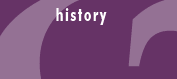 ampers& gallery: PAST EVENTS
a LACA artist-of-the-month exhibit FEATURING
CANDACE REED STELLA | second chances
feb 8–28, 2008
Please j
oin us for opening night: Friday, February 8, 2008 (6–8 PM)
Throughout the month of February, the gallery at Ampers&® Studio will host an artist-of-the-month exhibit featuring the recent works of Newmarket artist Candace Reed Stella. Stella's solo exhibit, aptly titled Second Chances, opens Friday, February 8, with a complementary wine & cheese artist's reception from 6 to 8 PM.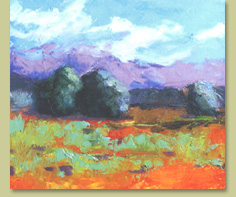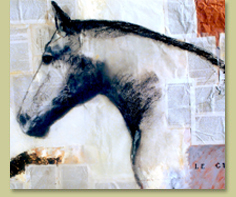 ABOUT THE ARTIST
Candace Reed Stella had already begun preparations for this solo show back in late 2006, when suddenly, there was a change of plans. Candace received the devastating news of a tumor on her pancreas, requiring immediate surgery & chemotherapy. For the past year, this remarkable woman has been fighting a battle for her life and, in the process, has come to terms with just what life means to her, and a realization of how precious life really is. Happily—miraculously—she beat all odds, and was given a clean bill of health late in the summer of 2007. Boosted by this "second chance," Stella has resumed her painting, fueled by a new appreciation for life, and a strong desire to make a difference.
"For me, Second Chances reflects a changed and fresh new viewpoint on life's purpose," explains Stella, "not only in terms of my own life, but for animals, too." An avid and accomplished equestrian, Stella's love for horses is evident in many of her works. She's taken this passion a step further, and has become actively involved with the non-profit organization EPONA (Equine Protection of North America), which works to rescue, rehabilitate, and re-adopt abused and neglected horses. "I would like people to know that there are many ways to help," says Candace. "These animals deserve a second chance, too." (Find out more at www.eponarescue.org.)
With a degree in fine art, Stella paints, prints, and collages horses, landscapes, and abstractions. For over 10 years, New Mexico has been a favorite spot for painting. Her work has been shown in New England, Vancouver, and New Mexico. Second Chances will remain on display through February 28. [read more about Candace]
About Ampers&
Ampers& Studio | Gallery (125 Main Street, at Rivermoor Landing, lower level) is located in the historic "No. 6 Mill" of the Newmarket Manufacturing Company, which sits on the bank of the Lamprey River, in the heart of downtown Newmarket, NH. The gallery is exclusively dedicated to exhibits featuring Lamprey Arts & Culture Alliance (LACA) artist-members. Normal gallery hours are Tue-Wed-Thu, from 2-6 PM* or by appointment. Please call ahead to verify: 603-659-6823.
About LACA
The Lamprey Arts & Culture Alliance is a private, member-supported, volunteer non-profit organization, whose purpose is to support the arts, culture and heritage of Newmarket and its surrounding communities. For more information, visit their website at www.lampreyarts.org.
*Hours may change to facilitate client meetings and project deadlines. Call first to verify: 603-659-6823.