---
::
Happy National Poetry Month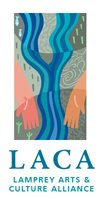 FORGOTTEN MEMORY
LACA's Spoken Word
Last week I planned to attend the April installment of the Lamprey Arts & Culture Alliance's Spoken Word, and to take a photo or two for both mine and LACA's blogs while I was there.
As you'll notice, there are no poetry reading photos posted here. That's because I'd been at work on a design project (totally immersed, in what I call "the zone") and completely lost track of time—again. Fortunately, I finally remembered where I was supposed to be, closed up shop, and dashed across the street; arriving in time—camera in hand, even!—to enjoy the last hour or so of readings. Not so fortunately, I forgot to bring along the camera's memory stick.
How ironic (and pathetic at the same time)—yeesh!
The poetry reading, however, was awesome. Such a talented (and fun) group of individuals! And the surprising thing is, if you happened upon most of them on the street, you'd never guess that they wrote poetry. So if you find yourself with some free time on the second Thursday night of the month, make your way to  Crackskull's in downtown Newmarket, NH, grab yourself a chai tea, pull up a chair and have a listen. You'll be in for a treat. Better still, bring along one of your own written creations—or a favorite poem by another poet; everyone is welcome and encouraged to share.
POETRY ON THE FLY
So, since I didn't get to put up photos from our Spoken Word, check out this wonderful "street poems" video shot in Dublin—what fun!
street poems :: dublin 2009 from ze frank on Vimeo.
* * * * * * * *
ED. NOTE: This entry was first posted on Blogger, under the handle "ampersandblogger," in April 2009.  : :  kf, 3/21/19
» Find more Poetry posts …